It seems Mona Fortier is clarifying her role in what was already a politically eyeball-rolling, newly created, "Ministry of Middle Class Prosperity." It was and is a cabinet post made up by the Trudeau Liberals and no one could figure out exactly what she was going to be doing.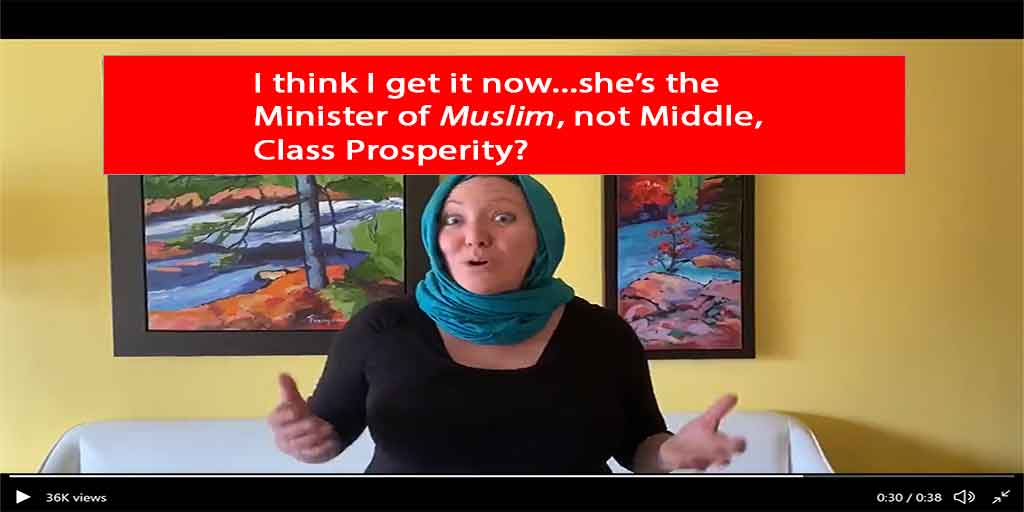 Perhaps Ms. Fortier's previous work in "strategic communications" was what got her the job with the Justin Trudeau Liberals.
Prior to being elected, Minister Fortier worked as the Chief Director of Communications and Market Development at Collège La Cité and managed her own strategic communications consulting firm.
Based only on a comparison of two videos Ms. Fortier published, one for Easter and one for Ramadan, and the Trudeau Liberal promotion of all things Islam, it appears she is putting her strategic communications experience to use more as the Minister of Muslim, not Middle, Class Prosperity in Canada and around the world.
It always surprises people to realize the relatively tiny percentage of the Canadian population in Canada is Muslim given their very high visibility. This is Stats Canada information from 2017:
3.25% of Canada's population are Muslim
Let's say half of the 3.25% are Muslim women, and let's say half of those Muslim women wear head scarves, that's .08% of the population.
In the adjacent Ramadan video Ms. Fortier wears an Islamic head scarf, and wishes Muslims a blessed Ramadan. She speaks in a tone of solemn respect for Islam, fair enough, but then goes on more of a bended knee gratitude promo for what Muslims have brought to Canada.
Okay, but in comparison, here is Ms. Fortier wishing the approximately 70% of Christian Canadians a perfunctory Happy Easter and quickly moving onto a public service announcement about the coronavirus. It's as if she she has no idea that Easter is the centre of Christianity.
I wonder if Mona Fortier will dare to wear a cross at Christmas for the approximately 70% of Christian Canadians.
Interesting note: I replied to Ms. Fortier's Ramadan tweet with the above information but it oddly stalled reaching only 2 people in about an hour, so I thought I would post this on my website.