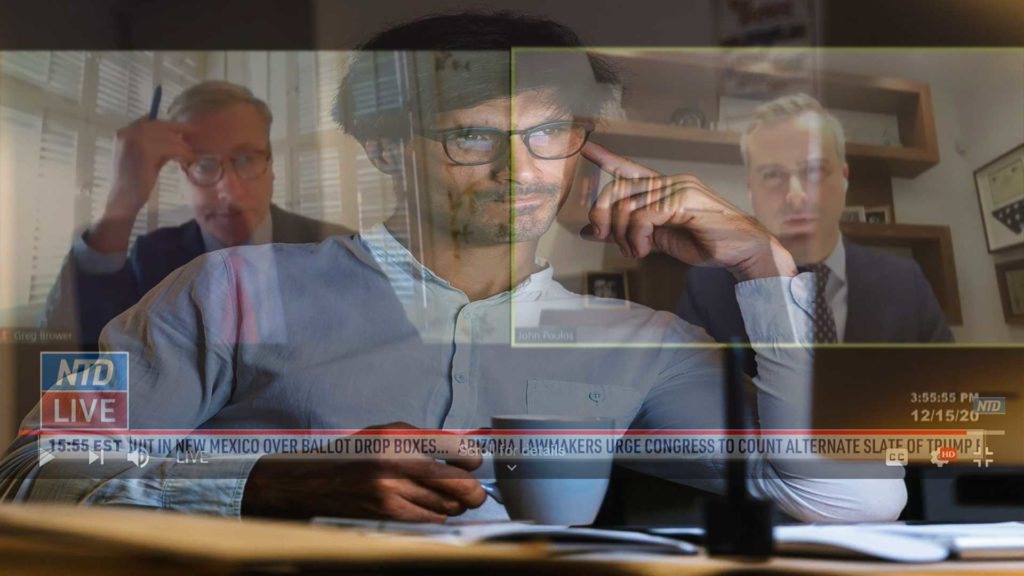 (5 Minute Read) Update: Dec 15, 2020: This is an update based on Dominion Voting System's testimony at the Michigan state legislative hearing into election fraud today. Although DVS vigorously protested the characterizations of their company resulting from the forensic audit of its voting machines, DVS does not deny their key findings, or at least the possibility of their key findings. DVS just doesn't believe election fraud happened.
DVS relies heavily on their position that most or all of the key security precautions for the DVS machines are the responsibility of the Elections Office, not DVS. DVS also relied heavily on the proof of the physical paper ballots (repeatedly reinforcing it was the responsibility of the Elections Office to secure them) and a match with the poll books in a recount was proof positive no election fraud happened. The problem is that there are discrepancies with the poll books.
In the end, the DVS CEO often simply said he "didn't know" and he "didn't believe" various security breaches could or did happen on their machines. There were many other concerning election fraud issues raised at the hearing, but these are the DVS responses to the key issues from yesterday's forensic audit report.
The forensic audit was led by a Harvard MBA who has worked with NASA and MIT. The team was comprised of "professionals who come from various disciplines to include Department of Defense, Secret Service, Department of Homeland Security, and the Central Intelligence Agency. "
DVS is used throughout the state of Michigan and across the swing states in which data analysis experts agree there are inexplicable and highly unusual anomalous results, that ultimately swung the election for Biden. As a result of this forensic audit report, the Amistad Project announced it is seeking to have the evidence preserved in the other five key swing states.
---
Dominion Voting System Software Intentionally Flagged 68% of Absentee Ballots With Errors, Resulting in Election Office Adjudication of Those Votes, Unobserved
Forensic Audit: The DVS system intentionally flagged a whopping 68% of absentee voters' ballots as having an error. Those flagged ballots were then adjudicated by various state election poll workers into whose hands was placed the power to control 68% of those voters' votes.
The [Dominion Voting System] intentionally generates an enormously high number of ballot errors [not seen in previous election]. Federal Election Commission guidelines is of 1 in 250,000 ballots (.0008%). We observed an error rate of 68.05%.
These are not human errors; this is definitively related to the software and software configurations resulting in error rates far beyond the thresholds listed in the guidelines.
The [68.05% of] electronic ballots [with errors] are then transferred for adjudication [to poll workers]…The intentional errors lead to bulk adjudication of ballots with no oversight, no transparency, and no audit trail. This leads to voter or election fraud.

Forensic Audit
DVS Response: The 68% error rate was not disputed by DVS – who was never asked about it by the State Senators. Perhaps they were constrained by the DVS lawyer from discussing that issue. The State Election's Office has not denied the 68% error rate.
---
Ranked Choice (Fractional) Voting
Forensic Audit:
In the logs we identified that the RCV or Ranked Choice Voting Algorithm was enabled …This allows the user to apply a weighted numerical value to candidates and change the overall result. The declaration of winners can be done on a basis of points, not votes.
DVS Response: DVS admitted it's true that they have a Ranked Choice Voting option (that allows a weighted numerical value). However, DVS argued, this is a software module that would have to purchased and turned on by the Elections Office and this was not done in Michigan. However, the Michigan Elections Office does not deny the option was turned on as found in the forensic audit. The State Election's Office position to date is to not deny the Ranked Choice Voting was in place, and do not disagree with the forensic audit report that it was enabled.
---
Audit Logs Inexplicably Destroyed for 2020 Contrary to the Law
Forensic Audit: Audit Logs to track which state election poll worker handled which votes and how those votes were cast have been deleted contrary to the law.
Significantly, the computer system shows vote adjudication logs for prior years; but all adjudication log entries for the 2020 election cycle are missing…Removal of these files violates state law and prevents a meaningful audit.
Because files and adjudication logs are missing [contrary to legal requirements and despite older logs of no value being present], we have not yet determined where the bulk adjudication occurred or who was responsible for it. Our research continues.
DVS Response: Not Disputed by DVS. Effectively DVS said , it's not our job. The State Election's Office position to date is to not deny the above. DVS said that each county is responsible:
State Senator:
In cases with digital adjudication, like at TCF [the Detroit ballot counting center, and computers that are local area connected to a voting tabulator, [and that voting tabulator is] connected to outside networks, does that [cause security ] vulnerability.
DVS:
So these are questions best answered by Election Officials …if you don't trust poll workers and bi-partisan [observers] it speaks to the overall security [not to Dominion Voting System]
State Senator:
[I'm] trying to come back to outside manipulation: if someone had these [voting machines] connected, would those security logs represent if someone attempted manipulation?
DVS:
I don't think so. But this is a question for those with physical custody of the ballots [the Elections Office}.
---
Internet Connectivity: Hacking Vulnerabilities
Forensic Audit: DVS Systems Can be Connected to the Internet
The Dominion ImageCast Precinct (ICP) machines have the ability to be connected to the internet… [through open software code intended to be used in secure environments so that unlike systems can communicate with each other.] Best practice is to disable the network interface card to avoid connection.
DVS Response: DVS does not dispute machines have the ability to be connected to the internet. The State Election's Office position to date is to not deny the above.
State Senator:
I want to be really clear whether at TCF [the Detroit ballot counting center) where they have a [voting] tabulator connected on a local area network to, if by accident or intent…[they are] connected to a wider network [it is then] possible for someone to maliciously and without us knowing it hack into the voting tabulator machine and change the results.
DVS:
I don't think so and it would be detectable.
State Senator:
What are the assurances that we have [that such a hacking did not happen]
DVS:
An independent test authority could do an analysis to look at the structure of the audit log and verify whether such a thing happened
---
Security Updates Found To Be Over 2 Years Out of Date
Forensic Audit: The Election Office's security updates had not been carried out for over 2 years (something the average person knows is critically important.)
This means the updates installed were 2 years, 1 month, 13 days behind the most current update at the time. This includes security updates and fixes. This demonstrated a significant and fatal error in security and election integrity
DVS Response: This is not disputed by DVS. DVS said that each county is responsible for their updates. Effectively DVS said , it's not our job: "once we certify its under state election control who keep chain of custody."
DVS:
We [as DVS] are not able to update software like you would a normal program at your home. Any change of any line of source code has to go through federal certification and once approved for use then we can provide updates and that is usually done by the elections office themselves. If you have a server that's air gapped even though Microsoft may want an update or an anti virus wants an update, there's no update unless they go through federal certification even for virus certification.

Dominion Voting Systems
---
DVS Foreign Ownership
DVS is foreign owned including having three board members who are Chinese nationals. The software running on DVS is Venezuelan owned. Forensic audit:
Dominion voting system is a Canadian owned company with global subsidiaries. It is owned by Staple Street Capital which is in turn owned by UBS Securities LLC, of which 3 out of their 7 board members are Chinese nationals.
DVS Response: DVS admits to being a Canadian owned company with headquarters in Toronto that moved its headquarters to the USA, and became USA majority owned in 2018.
Forensic audit:
The Dominion software is licensed from Smartmatic which is a Venezuelan owned and controlled company. Dominion Server locations have been determined to be in Serbia, Canada, the US, Spain and Germany.
DVS Response: DVS effectively denied this was true.
---
Last, on the credibility of the CEO, it was concerning that he lashed out at the hundreds of witnesses who signed sworn affidavits detailing highly suspicious, if not fraudulent activity by falsely claiming they had not been found credible by a judge. In fact, a court has not heard the testimony of any witnesses to judge their credibility since no court has heard the case.
So one could say that no judge has ever found the Dominion Voting System CEO credible.
Notably, Texas and other election offices repeatedly refused to certify DVS because it was not compliant with security regulations.